This is the moving story of Mrs. Shearer, from London, who came to stay with the Parsons family in Fulwell during that terrible uncertain period.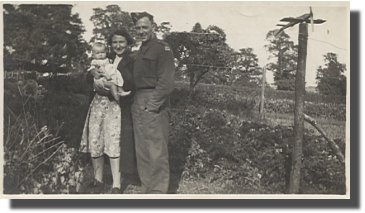 Note: (Mrs. Shearer is the Lady in the center of this photo)
!! For lots more Evacuee related pictures please look in the Photo Album !!
Evacuee story by Mrs. Shearer - 1/6/2000
The end of October 1940
After several weeks of sleepless nights and seeing the glow in the sky when they set the Docks on fire, my family thought I should get out of London as I was expecting my first baby.
My mother had a cousin living in the village of Enstone, who with her husband managed the Litchfield Arms there (Mr. & Mrs. Peachey). They were full up and Phyllis Parsons (Johns wife) happened to be in the local shop Adams stores when this was discussed and agreed to have me, so that is how I came to Fulwell.
I very soon adapted to country life, with having oil lamps and going down to the pump for water.
David was 5 at the time and Tony was 13 or 14 (Phyllis's sons) and they worked hard in the garden – quite remarkable at that age and we never went short of vegetables.
I soon got to know the people of Fulwell; Mrs. Gould, the Benfield family, Mrs. Simons, Mrs. Bull, Connie, Mrs. Canning and Ruby. I think it was a Miss Haws who lived at the farmhouse and the top house in the village was occupied by the district nurse.
We were both leaving men's wives, Phyllis and I, so we had a lot in common. I can't remember when John went to France but I remember him telling me about Dunkirk. He never said much about it only that it had been a dreadful time. In retrospect, I never felt in the way when he was on leave.
Three weeks before my baby was due to be born I had to go into Oxford to Ruskin college with other London mothers to wait for the birth.
Angela was born on the 21st January and a fortnight later I brought her back to Fulwell. Phyllis was a great help to me having had children of her own, Angela flourished, she was a very good baby. I can remember John saying, on going back after a weeks leave 'I have been here a week and I haven't heard that baby cry!'
Angela was baptised in Spelsbury church on March 23rd 1941
I so appreciated the countryside, the stalks of corn in the fields, Mr. Canning with his team of horses. Life was very peaceful, Phyllis and I would walk to Enstone to meet David from school and do any shopping at Adams.
We often went into Chippy for the pictures, it was 9d return on the bus (that is about 3 pence now). We had the butcher from Charlbury call and a Mr. Luker from Enstone with bread and cakes, also the Co-op from Chippy with groceries. We managed very well with our rations, I remember Mr. Benfield killing a pig and we had back bone pudding which was delicious and we also had rabbit at times. We often saw Aunty Mary (Johns sister) and little Pat and John, I still keep in touch with Aunty Mary. At Christmas my husband came on embarkation leave in November 1941 and he sailed for the far East ending up in Burma, he was in the Royal Corps of signals (The forgotten Army). I never saw him again until after the war.
I will never forget Angela's first Christmas, she was taken ill and Dr O'Shea from Chippy had her admitted into Chippy Cottage Hospital where she spent a few days. I remember the kindness of Aunty Mary. She put me up so as to be near for visiting.
Every Sunday afternoon two priests used to come from the Mansion at Enstone to give the boys (David and Tony) instruction on the Catholic faith. I used to take Angela for a walk in her pram usually up the track to Ditchley, It was a picture in the Springtime with wild flowers each side of the road.
During the war there was a salute the soldier week at Ditchley. Lady Astor was there and she gave a short talk. There were crowds there, but she spotted Mrs. Gould with her five children. She came and spoke to her and she must have been impressed for she took off her lovely white hat with cherries on, and said 'I take my hat off to you'. I never saw Mrs. Gould wearing it!
Although things looked very black at times I never once thought we could loose the war. We always knew when Churchill was at Ditchley for the weekend as we would see the home guard go by and the post office vans. As the war progressed we saw changes, the Enstone 'Drome' was used for gliders and the American troops came and laid large bombs all along the sides of the road ready for D day. John was wounded in North Africa and it was a very worrying time for Phyllis, he was eventually invalided out of the army. I spoke about going back to London but he would not hear of it "I was only too thankful to have you hear" he said and as the flying bombs were raining down on London I was glad to stay.
So the War ended and I returned home to begin my married life again. I have kept in touch all these years and remember all the kindness I received from the Parsons family with gratitude.
Below, in Len's own words, is the story of how he came to end up at Chapel House in Chipping Norton, staying with my Grans brother, Harry Knight and family, as an evacuee throughout the Second World War.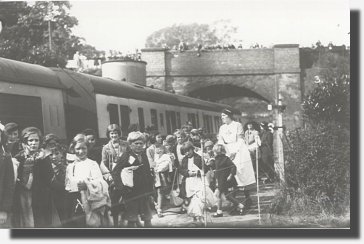 Evacuee story by Leonard Page – 1/6/1987
Leonard Page
William Guy Gdns
Talwin St
London
I was 8 and three quarters when with haversack gas mask, a pack of sandwiches and some sticks of barley sugar to give us strength mum said, my twin sisters Win & Doll were sent to Glengal road school with me tagging along to be evacuated, the big experience, the unknown, we were lined up in the playground in groups supervised by teachers.
There were two or three days false start when transport did not turn up to take us away, of course this did not stop us eating the barley sugar as soon as we got to school 'to keep our strength up'
Finally we departed with much waving, shouting and tears from the mothers who did not see it as the adventure we thought it was.
Mums strict orders were that the twins and me were to keep together, which we did, when we finally arrived at our destination it was dark and I can't remember much about the journey to Eynsham which was seven miles from Oxford.
We were taken to the school hall where we stood around waiting to be picked, somewhat like a cattle market. A lady that wanted two girls picked my twin sisters, while myself and another boy who came from the Isle of dogs named Kenny Gordon were picked by a couple who wanted two boys.
My sisters who remembered that mum said we must stay together were in tears at us being parted but were finally subdued when told we would be living opposite each other in mill street, and so we parted.
But the excitement for me was far from over on being led out by Mr. and Mrs. Coates to a car, my first car ride made it seem worth leaving London for.
When we arrived we were told that we were to live on a farm 'Home Farm' it was called.
The house seemed massive after two up, two down and a basement scullery. There was kitchen, dining room, gun and billiards room with full size table, a bathroom and toilet with bedrooms on the first floor and further upstairs was the attic room (one to be mine and Kenny Gordon's, with a bed of our own each)
That evening we sat down to dinner at an enormous table with about a dozen people who were guests and the farmer Mr. Coates (who's wife always called him Hubby) began to carve a huge piece of meat, I was asked if I wanted Ham and I said yes because everybody else who had been asked had said yes. Another first, a slice of Ham that nearly covered the plate, with the maid bringing in vegetables in dishes from the kitchen. It seemed a strange way to have dinner, our mum always put everything on your plate before giving it to you.
It was quite a big farm but we were soon exploring and finding our way about.
We had to attend the local school but with teachers who had been evacuated with us. I had a new teacher who when filling out the register asked my name, Len Page said I, 'Is Len short for Leonard' she asked, No my name is Len, No it can't be its Leonard, No I insisted its Len, no one in my life had called me Leonard (I could not remember my Christening) Anyway another first, for me learning how to spell my own name, how could a boy of nearly nine expect to find an O in his name, also come to terms that Leonard was my real name, fortunately everyone continue to call me Len.
One thing that happened when the Scouts whose ranks had been swelled by Londoners came to collect waste paper for the war effort. We had been sent to show them where it had been stored in the barn, seeing as most of the scouts were known to me being in the top classes from school and also Islanders from the Isle of dogs I also showed them where the apples were being stored in the loft of the barn.
I'm not sure whether apples or waste paper were the most to leave the barn that day but Kenny told Mrs. Coates what I had done. From then on I was in the dog house with her, although I got on very well with the farmer.
At one time they expected bombing so Ken and I had to sleep in a downstairs room on a mattress on the floor with a hot water bottle between us which had a double purpose, one - to keep the bed warm, two – it still being warm in the mornings the water was used for washing in, so saving fuel heating washing water.
One night I woke up in the dark wanting a wee but the house being in darkness I was frightened to try to find the bathroom upstairs. When I couldn't hold on any longer I opened the water bottle and topped it up, next morning I was quite happy to wash in cold water, this is the first time I have ever told this secret but it makes me think, if Kenny has a good complexion he can thank me, if he hasn't it serves him right for telling on me about the apples!
My dad came down to see us about Christmas time with tons of presents for the twins and me but they were not to be opened until Christmas day. Our mum could not come to see us because she was an invalid but her love came with dad.
Dad always impressed me because he always called the farmer Gunner when he spoke to him, but in later life I found out he called any stranger Gunner.
Sundays were a big event to go to Church and watch the army marching to and from Church because they always sung as they marched. I do not know what Regiment it was but they sang 'They didn't know chalk from cheese'
After the Easter in 1940 because nothing was happening Mum had us home until there was another scare and we were evacuated for a second time…
Once again with haversack and Gas mask and stick of Barley Sugar we went, this time, to Chipping Norton, which is 20 miles from Oxford.
I remember less about the trip to Chippy than the first time we went to Eynsham, but after the train stopped off at other stations along the way dropping off party's of children we finally arrived and were taken to the town hall for distribution.
This time my sisters and I with the three wise sisters were taken to Chapel House, it consisted of a farm and seven cottages on one side of the road and the white house, a big house in its own grounds with another cottage which was for the white house workman on the other side of the road.
The wise sisters were sent to the white house cottage, my sisters went to number 6 with a Mr. and Mrs. Powers and their son Puffy whilst I went next door to number 7 Chapel House. I lived with Mr. and Mrs. Knight (Harry and Ada) and their son Dennis who was only ever known as Sam.
Since late 1940 when I arrived I have kept in touch with the Knights, Mrs. Knight died in 1972, Dear old Harry died in May 1987 aged 89 years. Fortunately I went to see him three weeks before he passed away after a short illness. By now he lived in an old peoples home at Bicester, near his now married son Sam and wife Doris.
During this visit as usual we talked about the war years that I stayed with them, I always thought of him as my second dad and although I never got round to calling him Harry, I don't think I could ever show more respect than calling him Mr. Knight.
Harry had been a Grenadier Guardsman in the first world war, when volunteering at the age of fifteen after walking twenty miles to the Oxford recruiting office the recruiting Sgt. Told him he was too young to join up and to come back when he was sixteen, which was what he did.
He walked round the block and this time when the same recruiting Sgt. asked his age he said sixteen and was signed up. He received bad leg injuries in France and was invalided out with honors.
When I arrived at Chippy Harry was a war time special policeman, but before the war ended he had joined or transferred to the fire brigade near London.
Harry and I would talk of how near Christmas time Mrs. Knight had made a special cake to be iced for the festivities, Sam had asked his mum for a piece of cake and I was told to cut him a piece, there were two cake tins, the wrong tin was opened and a large lump cut out of what should have been the special Xmas cake. As Harry said 'The missus cussed you boy' the one and only time she did, although Sam and I together gave her plenty of reasons to cuss us.
Ada was a constant puffer of fags and loved whist drives, she always boasted that she had never had to buy a chicken for Christmas dinner, she always won one at the whist drive.
If Ada was without fags due to shortages she would resort to rolling Harry's pipe tobacco in newspaper to have a puff.
Evacuees were not as plentiful in Chippy as they were in Eynsham so the Londoners were easily integrated with the other school children and soon I was talking like the 'Carrot Crunchers', with plenty of sun and fresh air, helping at Hay making time in the fields of Hartleys farm during the school holidays, for this was the time of double summer time when it was still light at bedtime.
Chapel house might not have been as grand as Home Farm, the bath was a tin one in front of the living room fire once a week. The toilet was outside, no flush Cistern, but a bucket which Mr. Knight emptied once a week and buried in a trench in the allotment, you never saw him empty the bucket and only knew it had been emptied by the large cabbage leaves that lined the bottom of the bucket!
When I returned to London it took quite a time (and reminders) to learn to pull the chain again.
The memories of Chipping Norton seem vaguer than the early part of the war but I think this is because I was one of the family rather than staying with a family.
One highlight at Chippy was when a bomb was dropped near a pig farm at the bottom of green lanes about a mile and a half from Chapel house and I think that every child in Chippy made the pilgrimage to see the crater the bomb had left.
I remember on Maunday Thursday Sam and I walked to Over Norton to receive bread issued from the village hall to people who lived within the parish.
My great delight at Chapel house was when I received a card from Chippy station to collect a parcel, the parcel was a full size bike which had belonged to my sister May who was still in London, although she did come and stay next door with the twins during some of the worst bombing in London.
That bike was the best present ever, for no more the mile and a quarter walk to school , also when Mrs. Knight went to the whist drive, Sam who was four years younger than me rode on the rear carrier of the bike while I walked or trotted behind.
Sometimes it was a source of revenue as one boy at school would give me three pence to ride it about for the school dinner time. But this came to a stop when Mr. knight who was on point duty outside the town hall caught the boy on my bike (it being a girls sports bike) and he thought he had pinched it!
The war for some who were lucky like me, as much as we missed our parents received as much love and attention as being at home.
Whenever I saw Mr. Knight he always introduced me to his friends as "My little evacuee from London"
Thanks Harry.