Dad's War Diaries
The daily record
of
Gunner Stanley Clifford Stocking (Cliff) 913559 230/58th
Medium Regiment R.A.
(Notes in Italics are by the compiler John Stocking his son )
revision 28/5/2008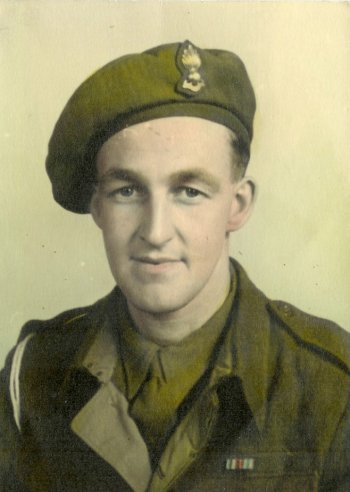 913559 Stocking S.C. 1939-40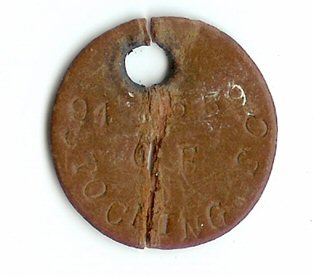 Dads Dog Tag broken in half for some reason?
Book 1 Small hard back 'memo book' with instructions for Lewis gun, 6 pounder Anti tank gun and Bren gun, at back . See appendix.(1)
1939.
Sept 1st.
Left Star and went to Kings Road at 6 o'clock. Picked out of detachment for surveys.
Oct. 14th
Went to Bordon...wet day.
Dec
Moved to Kingsley slept in Vicarage Stables. (Three Smart Girls)*
* The family have always wondered about these 'Three Smart Girls'!
1940
Jan 16th
Left 7.30 for Southampton. 12 o'clock. Stayed until 2.30 in Solent off "Isle of Wight". Isle of Man Steamer "Fenella".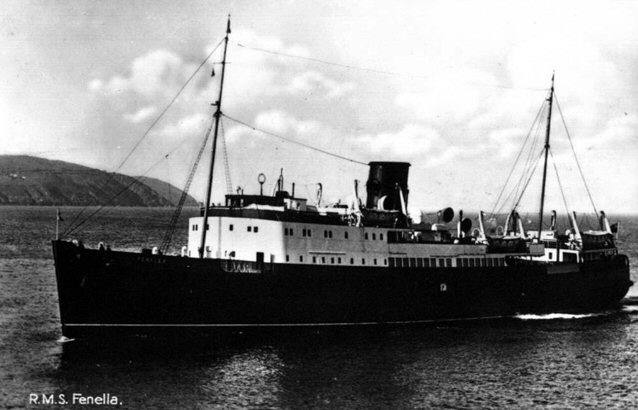 RMS Fenella N0. 145310. Built by Vickers Armstrong at Barrow in 1937 at a cost of £203.600 Sunk at Dunkirk on May 29th 1940.
(The same Day as Dad arrived back at Margate pier on HMS Kellett)
Jan. 17th
Arrived Cherbourg 8.30. Sleet, first drop of coffee also looked around town. Train left 8.30 pm travelled all night. Cold and horrible carriage. Arrive Fresney Sur. Sarthe 8 o'clock. First glimpse of French Countryside and tasted different wines.
Jan. 19th
First Pay Day.
Jan 20th
Left Fresney 8 am. Broke down near Marnes stayed 3 days without food, met French soldiers at barracks and sticky buns.
Jan 22nd
Went to the Le Mans and stopped at Chantezy barracks. Left for Versailles by train over Seine. Albert, Arras, Rouen. arrive Bully Grenay.
Jan 26th
Arrive by lorry at Versailles. Slept in Salle de Fetes. Moved to Battery office. Had many friends in Widow Losson, had several dinners there with Fernarde. Visited Lens, La Bassee, also Vimy Ridge. Saw memorial and underground trenches.
Mar. 29th
Dept. from Versailles at 5.30 arrived Longueval in Somme valley. Slept in bungalow. 25.000 men lost there lives in 4 sq miles of district here, Delville wood was captured and lost 27 times by South Africans and the memorial stands in the centre, also monument to 47th London div. and Black Watch and Camerons. Cafe Stevat, Margo and Cafe-u- Lait and Jambon Sandwiche. Eric and I have a room to ourselves, beds etc. Made omelettes on our little stove.
Visited Big Bertha and also Albert which was raised to ground in Le Guerre 1914-1918. The Virgin on the Basilique leaning at a perilous angle now reconstructed. A marvellous piece of mosaic etc. Cemeteries inc. Caterpillar Valley, Guillemont, London Rd, High Wood and Flat Iron Capso. Had services inc. Easter Communion in Burnafay Wood Cemetery, Thistle Down Dump, went to Arras and saw Cathedral also 2 concerts. 73,000 unknown men killed here. Visited Amiens, lovely Cathedral over 100,000 inhabitants, Thiepual frennal has more names on than any other memorial in France or Belgium, here are recorded the names of 73,357 Officers and men who fell on the Somme Battlefield from July 1915 till Feb. 1918 but to whom the fortune of war denied the known and honoured burial given to their comrades.
The height is 150 ft and the base 120 by 140. Of about 150,000 men who fell on the Somme some 82,000 have never been found. The battlefields that this memorial commemorates are Binchy, Arnowal, Anere Heights, Albert, Guillemont, Ginanchy, Bagentin Ridge, Marramont, Bapuane, Contalmasion, Chateau, Fleurs, Pojieres Wood, and Delville Wood. Vimy Ridge still remains as in 1918. Visited Beaumont Hassel Park saw No 2 memorial.
April 9th
Invasion of Denmark and Norway.
April 16th
Left Longueral 9 o'clock for Aise Voulette, stopped at Madame Gaston Devienne. Visited Lorette and saw the Chapel of Notre Dame with glass windows by British. Memorial to 100,000 French Soldiers, Cemetery 80,000 headstones and 20,000 coffins in great vault, one can see the Belgian frontier from the top of the memorial.
Lorette is the continuation of Vimy Ridge and stands like a mighty lighthouse, a light shines from it in peace time.
May 10th
Germans invade Holland and Belgium.
May 17th
Left Aise Voulette 9 o'clock on Eric's 20th birthday, passed the frontier of Belgium at 4.30 am, passed through Armentiers in moonlight also Tournai, Poperringle, Comines, Menhin, Ypres, Courtrai, Messines. Eric and I have an all night guard in farmyard, crossfire of guns over us, with Herbert in Scammel. Met Belgian friends who spoke good English, gave us a good time, plenty of wine Etc., Belgian girl shaved me at Cafe, Slept in Ypres Wood. Saw bombing of Poparingle and Armentiers.
Unexpected dumping of lorries, equipment etc. marched 15 miles to Brucay les Dunes. Dunkirk in flames lighting up sky. Slept in streets on pavements. Next day went on dunes, rain and machine gunning, had rum and tinned fruit, dug holes for sleeping in. Mr. Glover and Major Ellis helped us aboard the minesweeper HMS Kellet, hot meal, Sunk, two Red Cross boats and one destroyer. left at 3 am.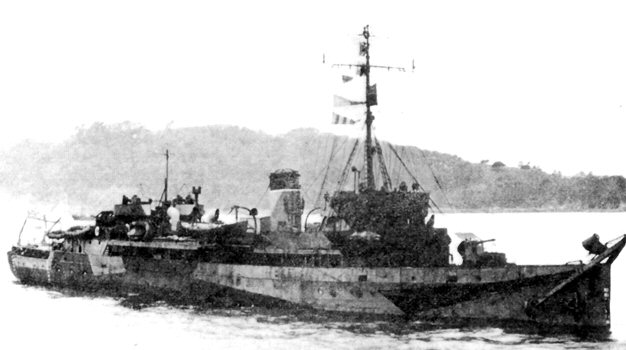 HMS Kellet in wartime rig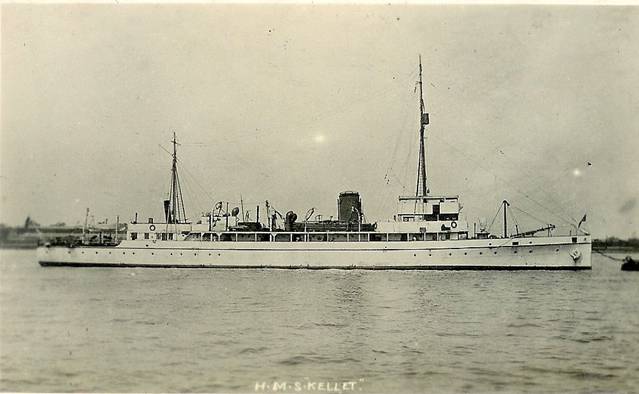 HMS Kellet as survey ship prior to conversion as mine sweeper
HMS Kellet Pennant No. J05
Built by Simmons 1919, Scrapped 1945
HMS Kellet was at North Shields when, towards the end of May 1940 and at short notice, it was ordered to Chatham, to be made ready to take part in the evacuation of British and French troops from the area around Dunkirk in northern France. Three trips were made to and from Dunkirk. The first was a beautiful day and the ship anchored in Dunkirk harbour without too much interference by enemy activity. Scrambling nets were put over the side and many men were taken on board such that it was difficult to move about the ship. Evacuated men were in every alleyway and on every staircase. They were even sitting on the coal in the ship's bunkers. As many men as it was possible to cram onto the ship were carried back to England.
The second trip to Dunkirk was very different. HMS Kellet was machine-gunned by German Stuka bombers. No British fighters were seen in the skies overhead and the Stukas were left to do whatever they wanted, more or less. The bridge was badly shot up but, fortunately, only one officer was wounded. That was on 29 May 1940.
The third trip was at night. Despite the need for all lights to be blacked out fifteen feet of flame emanated from HMS Kellet's funnel as best Yorkshire coal was piled into the ship's boilers. One man recalled that the water that night was phosphorescent. The ship berthed by a jetty where about two hundred stretcher cases and other wounded French troops were loaded before it ran aground and snagged one of its screws on an underwater obstacle. Fortunately, it was hauled off by the RNLI Greater London and it was able to return to England where it was docked for a new propeller to be fitted, which took a few days. On completion of repairs, HMS Kellet returned to her minesweeping duties on the east coast.
May 29th
Arrived at Margate Pier.
May 30th
Went by train to Cocford. Cocoa etc. on platforms. Stayed at Headington Drill Hall, lovely time, England is peaceful.
Went to Larkhill and saw Stonehenge etc.
Went to Poole and were billeted at Conservative Hall. Learnt to swim.
Went to Southbourne, visited Bournemouth, Boscombe and Christchurch Priory.
Arrived at Newbury Race Course. Slept in Grandstands. Covered truck with blocks etc.
Went to Brize Norton and built gun site, visited Groford Witney etc., also went to Banbury.
Aug. 11th
Went to Colerne, NAAFI bombed. Found friends at Bath also visited Chippenham. Built a hut out of aeroplane crates. Went to Yeovil to see Lily Stevens.
Dad and Sybil Hedge were married August 15th 1940 at St Mary's Church Bury St. Edmunds.
Strange that there is no mention of this in the diary!
*wedding photo here!
Nov 21st
Went home on leave.
Dec 5th
Went to Crewkerne via Bristol. Billeted at Parsonage, Georgian Ballroom and M.I. room.
Dec 25th
Xmas at Crewkerne, free beer etc. at 'Rat Alley'.
Dec 31st
Party at Toc. H.
1941
Jan 1st
Sybil comes down here, glorious week together.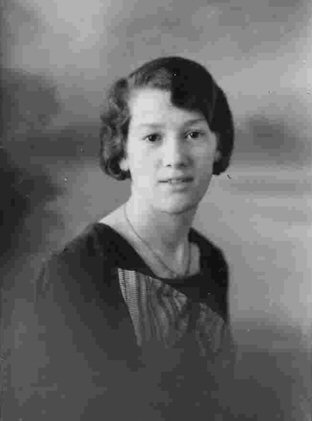 Sybil Ina Stocking nee Hedge
Jan 4th
Went to Bath and stayed at Mrs. Walsey's
Jan 7th
Sybil goes back worst luck. Started training programme. Major Ellis leaves and Major Hitchcock takes over.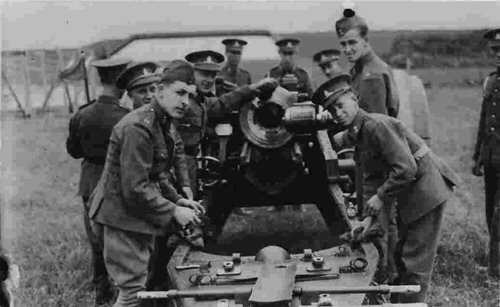 Probably taken during training in 1941 or possibly 1939 prior to going to France
Gunner Stocking is tallest in group, right of gun, wearing forage cap.
Feb. 2nd
Went home on seven days leave
March 5th
Sybil comes back here. Went to Yeovil to Lily's, saw baby, also dance at Toc.H
March 7th
End of perfect week, Sybil goes back.
April 12th
Went to Torquay for weekend and went to Totnes, Paignton etc., also went to see Eric at Kingsbridge (Survey Exam).
April 19th
Went to Kingsbridge as G.P. 0 a/c
May 12th
Went to Bude.
May 20th
Home on leave.
June 8th
Went to Larkhill
Aug...
Went to Sennybridge
Aug....
Went to Crelet St Thomas
Sept 12th
Sybil came to Bude. Went to Stratton with Basil and Peter.
Nov.....
Left for Christchurch.
Dec 8th
Home on leave.
1942
Jan 30th
Bob and Jack leave for new Regt.
Jan 31st
That lovely weekend in London. Met Mrs. Swaneborough etc. at Christchurch.
Feb. 6th
Went to Tilshead for Firing Camp.
March 23rd
Leave, Met Maurice.
March 30th
Sybil at Bournemouth.
April 2nd
Sybil went back.
April 5th
Poole.
Sat April 18th
Left Christchurch for Cheriton via Winchester and New Forest. Met Mrs. Gregory, Mrs. Peeling, Betty, Joan, Eunice and Mary. Sybil at Cheriton.
May 8th
Hamble and Southampton.
May 21st
Sybil at Chariton for Whit weekend.
1943
Book 2 (blue reporters note book -'Century note book')
It is little wonder that after such a grand time we had stationed at Christchurch and then nine months in the peaceful surroundings of Cheriton and district making so many friends, that we left so reluctantly on the night of January 4th 1943.
It is here that my diary begins:-
Jan 4th 1943
Was the day, which after so much preparation and packing was found to be the eventful day. Dusk found us dashing for what was to be our last pint of English beer. A scatter followed to billets for equipment and roll call. A lusty song was on all lips and here and there you could discern last goodbyes and Sgt. Major was even in on this.
Now the march by lantern light and villagers lined the road to see the last of us pass by.
On reaching Hereford we sat amidst the falling snow for one hour's solid wait and eventually on entraining had drips of water from our snow covered packs on our heads till eventually we jogged off to sleep.
Jan 5th
Six tired pairs of eyes woke up at Sheffield ( Busty, Bill Randall, John Cummings, Waney, George and I).
Here I scrambled over kit and through the window to retrieve a cup of tea. Finally we arrive at Liverpool greeted by still more snow.
Trolley Buses whisk us off to the dock and now we find ourselves shepherded aboard a luxury liner the "Monarch of Bermuda" destined to be our home for a while.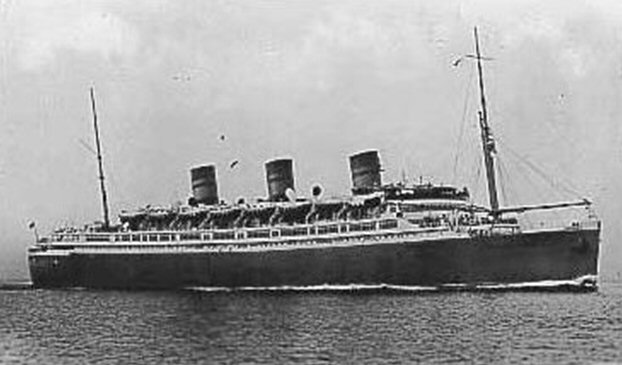 Monarch of Bermuda
Jan 6th
Here I meet a mess mate from Ipswich, Reg Keer, who turned out a pal throughout the trip. We slept up in hammocks each night on 'A' deck. Tonight we move, where? nobody save the Capt. knows.
Jan 7th
What a surprise to awake and find yourself surrounded by snow capped Scottish Mountains. We anchor in the Clyde. Our Scottish mates feel rather homesick.
Jan 8th
Once more we move onward to our still unknown but never-the-less much argued and abetted destination. The next few days were spent very leisurely strolling around the decks and getting our sea legs, my first day was not too good.
Boat drill, and I was appointed for first aid at the W.O.'s lounge. Several troop concerts in main hall and turn of guard, a very rough night, wind and rain.
Jan 15th
Rushed up on deck to see Gibraltar silhouetted against the moonlight sky. It brought back home to us seeing it so majestically rising out of the water so black and solid. Then on our right, Spanish Morocco, a maze of twinkling lights like a huge promenade stretching the waters edge reminding us of our summer holidays in the past.
We are now in the Mediterranean and experience a real grand spot of weather likened to a cruise, the water is so calm here. We bury one of our stewards.
The sunrise and sunsets from here on were unforgettable, pictures of every hue imaginable over the background of high mountains down to the blue of the sea.
Cran passed by and we still kept steadily on following the rugged coastline.
Jan 17th
Algiers looms up in the distance and after breakfast we watch it drawing closer till eventually, after we have met the pilot, we dock and land in brilliant sunshine.
Now a march which goes on into the night, 22 miles in all with a stop for tea, we reach a farm all in, sleep the night in a wine store. (3 years ago the Regt. landed in France).
Jan 18th
Blisters are to the fore this morning and I have my share. Now we bath and have a washday much to the surprise of the Arabs (Foreman and Sash man from the hills also sentry) Sash or Sach man?
Several trips into Fonduk and Rouiba for tangerines, dates figs and eggs. Have supper at French Cafe and last night finish up with champagne with Ron and Eric. Make beds like rook's nests with vine creepers but they prove very comfortable and certainly warmer than concrete.
Jan 22nd
M.T. arrives and we are busy cleaning and packing stores once more.
Jan 28th
First light finds us on the start of a 450 mile trek across the Atlas Mountains and through what proved to be very grand and majestic scenery to flat valleys between the crests. The most impressive being a huge canyon (Palestro Gorge) with sheer rock one side and a ravine and river on the other, with a waterfall and a railway popping in and out of the mountain side. Eggs were plentiful as every Arab at the roadside was hawking them at varied prices. Slept at Beni Mansour after passing through Alma Mennerbille, Palestro, Theirs, Bouira.
Jan 30th
After some perilous travelling up mountain slopes and dangerous bends we arrive at Ain Bada for the night. Slept near Mosque and was able to hear priest deliver his prayer from the tower.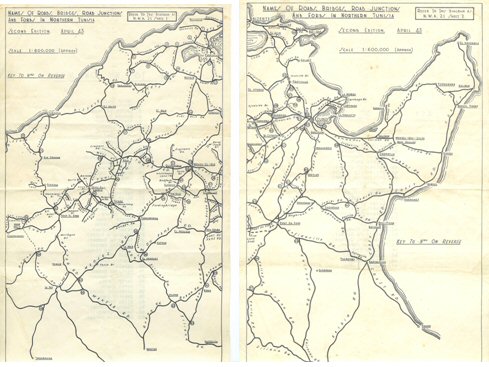 Contemporary Army Maps of Northern Tunisia
Jan 31st
Reach Souk Ahras.
Feb. 3rd
Hide in Olive Grove. We straighten up and dust ourselves down.
Feb. 4th
Hide at El Akhonet. 'H' arrives late after scouring the many roads for the position, finally found by contacting Lt. Webb.
Feb. 5th
Charlie and I on motorbike complete with survey kit journey from El Aroussa to Bou Arada on reccy. C Troop detached to 12 R.H.A. at Dj Mansour area. C.P. was established in Arab dwelling and D Troop open fire.
Feb. 6th
C.R.A. congratulates D Troop on their achievement of accurate firing on last night's task. Press men take photos. Leave on reccy to link up with C. Troop Major. C.P.O. on 'H' on perilous road due to heavy rains, skid chains no good and after some untiring pushing and shoving the Toc truck pulls us up onto the crest, We contact out new H.Q. and return to unit who by now have all reached top. I twist an ankle.
Feb. 7th
Morning finds us caked with mud and slime and so we move on to Robaa od Yahia and establish our C.P. in river bank. "H" breaks down Charlie and I in Y as office. My ankle is worse and extremely painful.
Feb. 8th
Ken binds my ankle and it seems to improve slightly. Sgt. Ransom returns to tell of poor old Spiv Wilson who has a compound fracture of his leg, this is where he leaves us to return to, so we hear, the place we all long to see, dear old England. Y begins to take shape as our office for tactical stuff and with the help of a few snaps and photos looks quite good.
Feb. 9th
Plenty of tasks in overnight and we find our days work well mapped out plotting them. Monty, Charlie and I have supper by candlelight. We have tasks on Pont des Fahs road.
Feb. 10th
Smoked tea. D troop fires 28 rds. off with great effect.
Feb. 11th
Snow and mud greeted us on waking and we hear Q4 has overturned during the night.
Guard tonight and received our first rum issue.
Feb. 12th
Collect kits from 'H' and find them much in need of attention. Here we meet up with a party called Ghoums who apparently, prewar, used to round up Foreign Legion deserters. they prove very useful for midnight jaunts into the enemy territory.
Feb. 13th
Clear out of surplus instruments etc.
Feb. 14th
Replotting of targets for forward positions R H Q arrives with 229 and we shall have to say au revoir to 12 R H A for the present after a grand week with them (Food was excellent) C.R.A. visits us. First letters from home.
Feb. 15th
First sunshine for days, we all bath and do our necessary washing.
Feb. 16th
Rumour very strong of a move to forward position. Charlie and I prepare for sleep. We eventually decide to stay put.
Feb. 17th
Recce positions for one section C Troop B.C. blasts off a few rds. salvo grand sight.
Feb. 18th
On duty all night after preparing Bty. Fire plan. (Tea and biscuits in C.P.) 6.30 am, successful task supported by Ghoums. Morning in bed in Monty's river bunk. Likelihood of a storm brewing. Rough night. Read Conan Doyle's 'White Company"
Feb. 19th
Awake to find mud ankle deep and heavy wind and rain developing into a thunderstorm late afternoon. Day in Office. C. Post washed out by torrent in wadi. We carry on the good work. C troop 1 section cut off from guns.
Feb. 20th
Sun shines thank goodness and we have a dash of rum for breakfast. C.P.O. and Mr. Neale attempt a pontoon bridge but finish by transferring C.P. to another site which proves much more suitable all round.
Feb. 21st
More rain but turns out brighter and we have service followed by communion, our first over here, in the open air.
Feb. 22nd
Major and Lt. Busty goes out as F.O.O. very effective fire in support of Buffs. Charlie and I reorganise our part of C. Post and have good bargain with eggs. Tonight we make our first pancakes with flaked chocolate which are really topping and wash them down with a drop of smoke. Call out for guard as paratrooper scare arises. Letters arrive.
Feb. 23rd
A few letters written in answer to mail. Further experiments with pancakes to improve them also the patent stove. Probability of a move in the offing we are on our toes.
229 Bty. receive order instead but eventually all falls through, Prepare task in C.P. (effective)
Feb. 24th
More mail arrives today, Good news but still awaiting another letter. Pancakes upset by weather which turns into a storm by late afternoon. Rum and Whiskey Nog with biscuits and cheese enjoyed by Charlie, Monty and I and so to bed. (Some B.F. brings rumour that Jerry has advanced within a few miles of us) 3rd Sappers round.
Feb. 25th
Grand day. Given "The Devil's Garden" by W.B. Maxwell. for tonight's duty turn if its possible to read. Busty at O.P. Guard and C. Post duty all night. Prepare H. F. tasks which prove effective. 3.30 am Alas our bottle of fire water empties.
Feb. 26th
Visit of a few Messerschmitts and Focke Wolfe 190, our first here to see, three of which failed to return to their base (Good old Ack Ack).
Feb. 27th
Charlie, A.C.P.O. and myself do a spot of orienteering and fixation with the troops over some grand muddy country. Charlie and I ride back on bike over a hazardous course of slush and rocks. River rises again after thunderstorm.
Feb. 28th
Service in open air. We have to move into C. Post thus upsetting our grand little office that Charlie and I have had.
March 1st
Awoke at 12-10 am to survey in one section of C troop, amusing incident when Y goes off road into mire. We eventually arrive back tired and weather stained with coats of mud. Change of grid gives us some bother with targets. Cookhouse changeover and first bread out here.
March 2nd
Morning rest after all night duty and bathe in stream which was not so hot as we had anticipated. Finish day with supper with Monty and Charlie. Presumed A.B.R. bracket us. Two Italians surrender at Don O.P.
March 3rd
Did washing and dried off in sun O.K. H.B. effective tasks, also German occupied farm destroyed. More A.B.R. Mr. Neale has conference with Frogs at H.Q. in connection with tasks. Still patiently awaiting more mail to turn up. Saw Raymond Flatt a tiffy Sgt., so talk of old schooldays etc. C troop forward section returns.
March 4th
Awoke to hear news of Jap. Convoy sunk by aircraft.
March 5th
More H.B. tasks effective. Lunch with Freddie in tent and supper in truck at night. Mr. Walton resumes A/CPO.
March 6th
Rather uneventful day. Duty at night in C.P.
March 7th
Sleep after all night duty and clean up. Targets recorded. Soup for supper with party.
March 8th
Recce positions for one gun in forward area. Camouflaging Y etc.
March 9th
We start digging Y in and find plenty of undergrowth which makes it tough going. Make fine deal with Arab over my much worn out brogues. Fried bread, eggs and beer. Two more Itiys give themselves up and also information. Big Tyler pays a visit.
March 10th
Finish off digging Y in. Ash Wednesday service in open air. Am lucky, receive 7 letters and 2 B.F.P. so spend the evening busy reading.
March 11th
1 Gun of D troop goes forward in early morning returning at night. After very successful days shooting with Capt. Clarke. Storm arises about 4 pm and churns the roads up once more and the river rises in wadi. I'm on duty in C.P. all night. Home mail arrives for us and B.F. P.
March 12th
Receive the one letter I have been waiting so long for.
March 13th
Had first English beer here since we landed from NAAFI.
March 14th
More rain compels us to stay put in vehicles. Army Order - " In no circumstances will there be any withdrawal"
March 15th
Saw Geoff for first time at R.H.Q. C.P.O. does a Recce for new Bty. position.
March 16th
Weather improved and George and I go forward with C.P.O. to recce and prepare position. Dig new C.P. and finish it off by moonlight when the rest of the Bty. arrived 10.30 pm. Now near Bou Arada Area.
March 17th
Reveille 6. am. Camouflaging and find our small area very limited as enemy O.P. looks over large part of wadi. Grand food supplied by our new cook, all appreciate this. Majority of us all dig in trucks and slit trenches. Duty in C.P. and guard.
March 18th
Torrential rain finds us almost completely washed out. We are lucky being high and dry in our old truck 3 beds now. Rum ration greatly appreciated.
March 19th
Still more rain but we are able to finish of all trucks. New position and make ideal camouflage. Current duff in great quantities for dinner and supper.
March 20th
Freddie and I go exploring the wadi in search of suitable poles for C.P. camouflaging and cookhouse. This afternoon we have some more of that delightful rain (Who said the rainy season was over?) Another rum ration. Game of Lexicon before bed, or rather in bed, in the truck.
March 21st
A little sunshine to greet us and also my first airmail from Sybil,* received in bed, having arrived late the previous night. Our truck looks like a small pine plantation with a stockade in front. Saw Reg and had a pow wow over things in general. Beer for 11s. Monty manages to procure for us a bottle of fire water which makes some nice evenings.
March 22nd
Bathe in wadi, really grand amongst the rocks, very similar to Bude. First real support to French and Singhalese planned for morning. Duty in C.P. during which time we make tea and have stew for supper.
March 23rd
Marvellous sunrise with a full moon still shinning. 5.30 - 6 am. We support the attack on enemy H.Q. Washday and a glorious day of sunshine, at last think the summer has started. Letter from Maurice telling me he is in neighbouring Div. (Hope I shall meet him) Nightcap with the lads which finishes up with a discussion.
March 24th
First Air Mail cards are issued to us today. This Afternoon Mr. Bigwood and I climb up about 2,000 ft and altogether spend a grand afternoon getting a marvellous view of the enemy country and Bou Arada.
On descending we land in a wog village and the women all scamper to hide them. The natural surroundings were really fine, valleys and pines with clumps of heather and well weathered rocks here and there. By this time have read many more books including "Little Mother Hubbard", Heather Norris, "Red May", "Pip" by Ian Hay, "Out of the Blue", " Miss Galligan comes to Grief" by J.H. Chase, "The Vagabond Lover", " Soldiers Pay", "Countryman's Essays", "Black Diamond", "Beau Ideal", "The Uneasy Virtue" and "Short Stories of Saki". Monty, Charlie and I have a debate and our nightcap.
March 25th
Colonel thinks fit to pay us a visit and inspects C.P. area and troop positions after which we receive the most bumptious letter complimenting us on everything in general (Range table omitted)
March 26th
Short base registration with Major Mason and Major Hitchcock at O.P. with Mr. Fagen at O.P.2. very enjoyable afternoon and very effective task although ranging gun proves to be 6 deg off for line.
March 27th
Barbed wire entanglement around C.P. area. Enlargement of C.P. and new tilt for same. Targets to plot. Duty in C.P. and guard during which red rocket is seen. Mr. Walton and B.C. go forward as F.O.O. to support French early morning attack for which Charlie and I have to work out Arty Boards 11.45 pm.
March 28th
Support French on attack on Point 666 and are complimented on our accuracy of same. A violent electrical storm develops as the day wears on, vivid flashes of lightning like a huge spider's web.
March 29th
Freddie and I re-arrange camouflage and adjust the roof after our nearly getting a soaking from the storm. Some very good sport with our Tommy guns in the afternoon at tins and paper targets in the wadi. We have a good system of tea making in the wadi for our supper. Gabes taken by 8th Army.
March 30th
We all partake of a bath this morning from showers which have been erected in the W.L.'s. but although the water is hot the elements prove very distasteful and am afraid it wasn't appreciated so much as it might have been. This afternoon we do some more barbed wire entanglements around the C.P. area making us look more like a concentration camp than anything else, (Guard).
March 31st
Another month flown by. The Eighth Army seems still to be pushing ahead, We attack Alalegua but heavy opposition drives us back. Enemy is falling back on all fronts. This afternoon Monty and I do some good business with the Arabs over eggs, the ceremony causing much laughter.
April 1st
Finish our barbed wire defences which again prove correctly the old Arty. slogan 'Dig or wire up and move' as the afternoon sees us packing up ready for a move. (see 29 caterpillars in single file and wild anemones) Leave for new position and recce C.P. Long wait until early hours of morning for the Bty. to arrive.
April 2nd
Bty. arrives as we bed down at 3 am. Reveille at 5 am and we are off on bike to do survey which agrees within 3ft (Good for us). Wind now is intolerable and we find the erecting of C.P. no easy matter. Visit of Big Tyler. We are now back in the Robaa od Yahia area just past our old previous position and troops are in C troop's forward position.
April 3rd
Rumour of move. Jerry gives us a taste of his shelling both troops and C.P. without any casualties although many fell close. Freddie injures his eye.
April 4th
Still more gifts from Jerry. Move at 8 pm. I ride on X with Busty for 64 miles. X2 overturns and we eventually arrive at 6 am in wood through Maktar after passing through Robaa and Silliana.
April 5th
Leave for reccy at 9 am meeting B.R.A. etc. and go within 5-600 yards of enemy in no-mans land. After a roughly prepared meal we prepare to stay the night. But guards advise us to retire further back owing to enemy armoured patrols.
April 6th
12.30 am. Regt. arrive and we contact Infantry for support and go forward to establish troop positions and C.P. Hard digging while more shells fall and we fill all in after 3 nights no rest (Reprimand from R.G.H.) Att. 6th armoured Div.)
April 7th
Prepare for big attack. Sand and dust everywhere with strong wind. 5 am survey completed. First fresh water for days.
April 8th
This was a Red Letter Day. We watched the tanks and armoured vehicles pass by in a never ending stream for 36 hours a most impressive spectacle. First shave for 5 days. Pichon falls but we regret the news of Capt. Moffatt's death.
April 9th
Fonduk still holding on despite heavy attacks by Yanks. Prepare to move at 3 am but find they are cancelled afterwards.
April 10th
Fonduk falls after attack by Welsh Guards and we move up at 5 am passing through the gap where we encounter enemy planes and narrowly miss a few bombs. From here we pass on rapidly to within a few miles of Karouan passing through mine fields and seeing several sights of modern warfare,
April 11th
Karouan falls and we hear that Sousse is in flames. We dig in wadi as we get several bombing visits from Jerry. Leave at 11 pm with B.M. for position 10 miles NW of Karouan passing through same by moonlight. All night digging.
April 12th
Move up within 50 miles of Tunis. Just miss being bombed when Stukas bomb road and fire petrol trucks. Saw Gen. Anderson also many more prisoners. After plenty of survey etc. we eventually move out with 6th Arm. Div. for rest. It is here that Charlie hits bomb crater and puts both him and bike out of action.
April 13th
All have much needed bath and change of clothes. Move again to Maktar area. Charlie leaves for R.S.
April 14th
Arrive at hide 8 am sleep until 12 o'clock to awake for a further move to rejoin R.H.Q
April 15th
Arrive near Le Krib in rest area and are busy repairing and cleaning up in general. Here excellent sleeping quarters in tent and get many eggs which prove valuable for suppers. Chocolate at last in large quantities which we promptly gorge with more food.
April 16th
Washday, and endeavour to get back to normal. Our supper and early to bed scheme turns into a perfect nightmare with the lads all in our little tent. (Prunes and Himalayan Bouquet figure quite prominently here)
April 17th
C.O. and O.C. C.P.O. etc. go on reccy. Here we snatch our first opportunity to write home and sunbathe. Another good supper in our tent: Fried bread, eggs and C. Beef, Orange squash
April 18th
Here we lose our old C.O. More bargaining for eggs which have now accumulated to such a quantity we have them for every meal. Supper of eggs cheese and Spam. More tales in bed.
April 19th
Now H arrives in an appalling condition so we set to work to put it into order. Here Charlie bets Monty we shall be home by first week of June.
April 20th
Leave for new position passing through Le Kreb, Sloughia and Medjez El Bab. Charlie and I on recce. Jerry breaks through with tanks around Banana Ridge and we have very narrow escape. M.1. cut off.
April 21st
Move to olive grove and have meal. Shift to new hide in orchard until dusk. Move up to new position and prepare C.P.
April 22nd
Survey by first light, A corporal and myself do recce of alternative position. Meet Irish Guards. Work out Barrage. Wally, Petrol, Jack and Mr. Walton return.
April 23rd
Barrage fired, very heavy opposition is found. Capt. Gunning casualty.
April 24th
Charlie and I find Jerry lorry and armoured car also gun. Jerry shells us and plenty of bombs at gun positions. Rumour of M.1. personnel returning but proves to be false. First visit from Col. Ord while on duty.
April 25th
Easter Sunday and what a day. We almost roast ourselves. More visits from big guns and huge pieces of shrapnel found. Acks are all complimented on work of late. Very good evening with Acorn on duty.
April 26th
Bank Holiday Monday finds us in possession of this Jerry. American armoured car which Seagull has acquired for himself. 12 o'clock and we prepare for recce to a forward position. Charlie and I after being sweltered by the heat are machine gunned by cactus in the wadi but Ack Ack brings the ...........down. New position in wadi. I find a few very useful souvenirs amongst trenches that look to have been hastily evacuated by the Hun. Satisfactory progress on front. Long Stop captured.
April 27th
Charlie and I on recce for new Bty. position which proves to be probable mined area. Again we have plenty of experiences. Firstly a M.E. machine guns us but Ack Ack soon finishes him and we see it go down in flames. New position in wadi, we find plenty of kit etc.
April 28th
Have now established C.P. and a few heavy shells begin to fall around us, presents from Jerry. C troop moves forward and suffer 7 casualties when they get a direct hit on guns. Basil etc. are injured. Tank battle into night when things quieten down again.
April 29th
Rude awakening at 5 am by enemy bombers who unload uncomfortably near us injuring 2 in R.H.Q. Charlie and I go off to survey new position for D troop if needed. Here again the fun starts as Jerry counter attacks and we find ourselves surrounded by shell fire. Have to walk 5 miles back. Find Spitfire which had pancake landing. Betty Lou picks me up. We find Monty etc. all in tropical kits.
April 30th
Churchills go past on their way for early morning attack with Gordons. More Jerry shellings fall around. We bedeck ourselves in tropical kit finding we now have to wash a few more exposed parts and knees look rather white in comparison with our arms and necks.
May 1st
Move at 5 am to forward position with C troop to be greeted with shell fire. Excellent C.P. about 6 ft in ground. After some amount of messing around with R.H.Q. on Charlie's bike we agree on line and fix. Thunderstorm at night but we are OK in our bivouac.
May 2nd
Early morning on duty, plenty of H.B.'s. and D.F.'s. to work out. Snakes and lizards, one near C.P. 3 ft long.
May 3rd
Peter and Charlie promoted also Mr. Hardie to Capt. Move to 229 position at 4 am. Have to dig C.P. in chalk which gives us the appearance of snowmen. Find excellent bivouac for ourselves.
May 4th
Preparation for new attack. Fire plans etc. worked out takes us long into the night.
May 5th
This morning after guns have fired at irregular intervals 400 open up, from anti tank to 7.5 inch, a most spectacular barrage. Move up to Massingere. D troop shelled in olive grove. Move again to Frendz. Position in cornfield, Again to new position. On recce, to return to find whole Bty on move to another position. A most hectic night. We join 6th Armoured Div. once more.
May 6th
Position is a few miles SW of Tunis Road and dawn finds us souvenir hunting by abandoned Bty. of enemy guns. Move to new position but move again up Tunis road to within 8 miles of Tunis where we stay night awaiting further orders as Tunis has fallen and clear of enemy.
May 7th
Recce Bty. move and get first glimpse of Tunis and Lakes. All civilians mob vehicles and shower us with flowers. Take 9 prisoners after passing tanks in action. Move to new position on outskirts of Tunis in olive grove. Survey quite a problem. Position in orchard for C. Post. Stay night.
May 8th
Move to do survey when we get standby for move. Enemy retreating rapidly. Fire in gap in hills. Don troop have premature, 4 killed.
May 9th
Air Force co-operate with Navy and Army to quell enemy evacuations.
May 10th
Move early hours into Hamnen Lif. Position by railway. Civilians give us coffee and Cognac and tell of German atrocities. See the blue Mediterranean for first time since leaving Algiers. Hair cut at French barber. Move to an Italian farm and find typewriter and various souvenirs. Again we move to hide at Gombalia area.
May 11th
Bty. to get into action in this area. Survey done, we move to Hammamet under 11 R.H.A. to drive 20,000 out of hills. Several hundred prisoners pass us on roads and we discover cook's truck and obtain plenty of tinned food and biscuits. Attempt to meet 8th Army from south in drive. Bty. in searchlight position evacuated by Italians. Move again in afternoon to position in Camp Ficha and stay night. Few enemy shells land too close to be pleasant.
May 12th
Bty. move few miles off Bou Ficha in grove and take up position in front of assault guns. 1300 hrs. Again we move through Bou Ficha to last position a few miles further on. With Air Force we blast them out of the hills. O.C. returns to tell of Gen. Von Arians capture and surrender of troops. Guns remain in action. We are bombarded during night by hoards of mosquitoes who raise several lumps on us all. Link with 8th Army.
May 13th
Move to R.H.Q. for orders. All move to hide 4 miles north of Hammamet and await Battery. In meantime enjoy a swim in the Mediterranean.
May 14th
A day of maintenance. Do half day as it was, for the afternoon finds us in the sea again. Supper in tent for Acks. Trip into Nabeul.
May 15th
Handing in of maps and surplus stores. Make and mend and another bathe and sunbathe on the shore. All Acks, less George, walk into Hammamet. Picked up by Major in Jeep. Alas no cafes, consequently no wine. We all munch some locusto and the lads visit an Arab barber, Free Frenchman gives us a can of wine and we toddle back to camp very tired.
May 16th
Sunday, and we start off with Church Parade after which I spend the rest of the day writing up some very delayed letters to home. We have supper, new potatoes, C. Beef and Cocoa altogether in our tent.
May 17th
Sorting of maps and clean up. Do well at swimming, near thing at swimming out beyond my depth. Sunbathe and trip into Nabeul with Peter, Busty and Geoff.
May 18th
Prepare for inspections. Diesel trucks etc. and the usual thing for these affairs. Storm prevents our usual afternoon bathe. Rumour of move to Carthage area. Recce parties leave.
May 19th
Guns leave for march past in Tunis. The afternoon is quite an eventful one as after very violent thunderstorm and cloudburst we find ourselves practically floating, wadi a raging torrent and main road like a river. Busily engaged diverting rushing water from tents. Charlie and I gather onions and with stewed steak fry our supper, to wash it down with a rum issue.
May 20th
Get eggs off wogs which later prove excellent for supper with onions and pudding. Swim, but sea is very cold. Prep. for move.
May 21st
Move to new position nearer Tunis. Find it lies in hills with marvellous view of Tunis and bay also La Goulette, La Marsa, Ariana etc. get some good rations for supper.
May 22nd
Visit Tunis with George and have a grand time round the city. Return to find that Barney has returned, a really marvellous surprise for us all.
May 23rd
Allied Church Service in open air. Went for afternoon to La Marsa for bathing. Marvellous place, ideal for bathing. Large Villas with pergolas, terraces of palms and Loggias covered with roses bordering the sands. Have coffee in Arab cafe.
May 24th
Another trip into La Marsa with similar experiences, able to buy a few tomatoes.
May 25th
Preparations for a move and clearing up in general otherwise an uneventful day.
May 26th
Here we start on the trek back into Algeria along the mountain road and see many of the towns we passed on outward journey. Stay night at Beja after doing recce. Town in ruins. Rain comes at night.
May 27th
Off early on recce passing through Souk el Arba and Ghardimou. Arrive at Souk el Ahras and we all visit cafe and have wine and dates etc. Storks pay us a visit, Wogs plague us and we have a most pleasing time chasing one who stole blankets.
May 28th
Leave and pass through Duoiver, Petit, Ain Abid etc. Finally after by-passing Constantine, stay the night at Ain Mililea. More Storks invade us. Buy cherries and dates etc. from village which we all gorge ourselves with.
May 29th
Left on recce for Timar near Setif where we find a lot of unnecessary work to do lining up our trucks for Bty. areas etc.
May 30th
Today is solely spent on good old army bullshit everyone browned off completely. Heat terrific.
May 31st
Diesel all trucks and more and more of the bullshit. Leave starts at Bougie. Trip into Setif and find plenty of entertaining things also wine etc. Plenty of mail arrives at last.
June 1st
Today we shift billets to small tents and everyone is at the end of their tether. Another trip into Setif with Monty. I am Regt. bopper for a change, Grand time in Arab market. Get oranges, dates etc. More mail for me. Eggs etc. for supper.
June 2nd
Trip into Setif on water cart. Kings Own Band playing in bandstand. Charlie, Busty and myself have dinner at Grand Hotel, of soup, cutlet of fish, green peas, carrots, apples, coffee, vin Rose and Blanc.
June 3rd
Another trip into Setif with Paddy, Monty and George. Having iced burcatal and another dinner at Hotel de Paris of soup, omelette. macaroni, cream cheese and wines. Ride back with Reg in Arm 4.
June 4th
Lining of Avenue with stones etc.
June 5th
Trip to sea but find it too rough to bathe. Marvellous scenery en-route passing through the prettiest villages so far. Karrata and through the Chabet el Akra Gorges (1862-1870) really unsurpassable for natural beauty. Return for dinner at Setif.
June 6th
Laying out of Regt. sports ground. Afternoon spent washing and catching up with mail.
June 7th
Trip into Setif for rations. Eat loads of apricots and stay on with Monty etc. for supper in Chinese Restaurant.
June 8th
To sea again 7 miles from Bougie. Delightful spot ideal for bathing. Find large locust. Return to Setif for evening. Deal with Yanks.
June 9th
Director testing. Trip to Setif and visit Arab quarter. Interesting although horribly smelly.
June 10th
Quiet day. Storm brews up in afternoon.
June 11th
Panorama drawing on hill at Timar. Get over 50 eggs off wogs. Setif in Y with Freddie and Charlie to get straw dishes etc. Eggs for supper.
June 12th
Proformas made for Meteors.
June 13th
Church Parade. We lose our bivouacs for marquee. Capt. Clarke approached me on taking on a Pay Clerks class with Swifty.
June 14th
Start work with Swifty and go into Setif for NAFFI and spend morning in market. Issues out in afternoon. A.G.R.A. Concert Party at night.
June 15th
Usual day. Concert by E.N.S.A. ruined by storm and we have a good time in marquee. Sgts. have big celebration.
June 16th
Sgts. not to hot today after previous nights jollification. Visit 229 canteen with Geoff and Barney and have wine etc. Charlie, Freddie and Monty on leave.
June 17th
Getting on OK with Pay Clerks work. Guard at night.
June 18th
Prep. for payday, feeling not so good.
June 19th
Pay Parade and everything OK seeing it's my first pay out. Go to Setif with Les and see "Old Bill and Son" at the Colissee.
June 20th
Our Major leaves us today and we have farewell parade. Charlie, Freddie and Monty back from camp. Excellent concert by French despite storm. Sent parcel home.
June 21st
NAAFI again after trip into Setif. Whirlwind storm at night, lightning terrific.
June 22nd
Clearing up and we have Typhus injection.
June 23rd
Rearrange tent and put down tilt much better, Camp for us is cancelled temporarily.
June 24th
Go to Setif to pictures "The Desert Victory" in morning, able to do a little correspondence in afternoon.
June 25th
Usual day. Go to Setif at night to see "Ship Ahoy" in open air returning at 12 o'clock.
June 26th
Trip in afternoon to Setif. See "Reno" and have look round town.
June 27th
Holy Communion. Swifty ill so I'm unable to go to camp as I have to take over Pay Clerk. Prepare for NAAFI etc.
June 28th
NAAFI all OK and we do it in record time. Night at canteen, band etc. Sybil's birthday.
June 29th
Not so good prepare for afcs etc.
June 30th
Preparations for big inspection by B.R.A. all half yearly afcs to do.
July 1st
Everything OK. Prepare once more for camp. Trip to Setif and see Abbott and Costello in "Ride em Cowboy" in the Grandstand of football field.
July 2nd
Leave for camp and stop at Kattata for a drink. Arrive and make ourselves comfortable. Bathe then take a look at Bougie, having supper in cafe.
July 3rd
Early morning finds us in the sea again before breakfast. 10 o'clock, leave for Bougie and visit shops having dinner there of omelette, tomatoes and chips. Trial of Vigilantes in afternoon and visit churches. Again we visit our little cafe for supper.
July 4th
Early morning bathe followed by walk up the mountainside and get grand view of land etc. Afternoon busy writing. Evening finds us in Bougie once more and we listen to band on esplanade playing "Merry Widow" etc.
July 5th
Again after mornings dip have another look at Bougie staying to dinner and tea and see show "Stand Easy" really good. Hitch hike back to camp.
July 6th
Spend morning in sea and pack up to leave once more very reluctantly. Heavy head wind and stop at Karrata and arrive at camp in middle of dust storm.
July 7th
Audit Board greets one for first job but this is soon over. Gramophone Recital.
July 8th
Beer arrives and is soon brought to good use in this intolerable heat and dust. Tonight I go to the Stadium at Setif and see George Raft in "Broadway"
July 9th
Nothing much happens today so far.
July 10th
Went to Setif with Les etc. had several drinks and general lark around. Gramophone Recital at R.H.Q.
July 11th
Swifty back and canteen starts, removal of Office.
July 12th
NAAFI, otherwise rather uneventful. Hear news of Ted Pickering.
July 13th
Tuesday Concert tonight which proved to be really first class. A fine band and several new tunes for us. "My Darling". Tent blows over and upsets the stores.
July 14th
More mail and Picture Posts for good reading. Washday and ceremonial Parade at Setif for Commemoration of fall of Bastille. News that Jock Porter is prisoner of war in Italy.
July 15th
Heat today is terrific, possibly our hottest day so far.
July 16th
Pay up and prep. Feeling not too good. Tonight finds Monty and I in sick bay. Poor old Ken has to be up all night on account our high temperatures.
July 17th
Fortunately we feel little better, narrowly miss hospital.
July 18th
Sunday. Endeavour to do a little writing.
July 19th
Feel considerably better, hope to be out tomorrow.
July 20th
Today finds me out and about again but what a day, the strongest Sirocco yet has descended upon us and everywhere is inches thick with dust, you eat, drink and look like a desert itself.
July 21st
Trip into Setif for haircut etc. with Wally and Petrol. A few glasses of wine etc.
July 22nd
See Dianna Durban in "It's a Date" at the Stadium and repair typewriter.
July 23rd
Pay Parade and all that that incurs in new job.
July 24th
Kit inspection and a washday otherwise rather uneventful.
July 25th
Sunday. Attend service in open air and have concert at night which proves to be very good indeed. Theme song "Whoa Mohammed"
July 26th
Visit Chateaudan to see specialist and return just in time to dish NAAFI out. Dinner with Yanks on Aerodrome.
July 27th
Rather uneventful. Still very hot and dusty.
July 28th
Visit Setif with Monty for deal with typewriter. Introduced to Madame Forrey and Madame Garnapain and have a quite amusing French lesson.
July 29th
Visit Setif with typewriter and take it to Madame Forrey for her approval. Old town hall in mess tent.
July 30th
Prep. for pay roll. Swifty and I go to see French Concert. Opera singer very good.
July 31st
Saw "Wake Island" at stadium, Setif.
August 1st
Church Parade. Very busy, really must attempt a few letters.
August 2nd
Bank Holiday. Day off but I'm kept busy, hoping that I may get one off next week.
August 3rd
Rather uneventful. Trip into Setif in afternoon.
August 4th
Visit Madame Pierre Forrey and come to arrangement with typewriter.
August 5th
Swifty returns and we have a good sort out.
August 6th
Go to Setif to see "Hellzapoppin" and football match.
August 7th
Visit Madame Forrey and have French lesson also Regt. canteen with Geoff.
August 8th
Holy Communion. Fire picket. Prepare for re-equipment.
August 9th
No Constantine trips so stay back instead for NAAFI. Guard at night.
August 10th
Not much doing apart from check up.
August 11th
Visit to Constantine and School of Artillery. Meet Mr. Neale and altogether have a real good day.
August 12th
Endeavour to write a few more letters if possible. Arthur Askey in "King Arthur was a Gentleman" at stadium, Setif.
August 13th
Concert by A.G.R.A. band.
August 14th
Write a few more letters and general clear up of kit etc.
August 15th
Our 3rd wedding anniversary away from home again. HOPING NEXT YEAR WILL BE AT HOME. Go to Setif to see Grace Hevone in "One Night of Love"
August 16th
Prepare for scheme, Acks etc. NAAFI.
August 17th
Letters arrive, Successful scheme and trip into Setif to see Madame Forrey with Jim.
August 18th
Saw "First of the Few"
August 19th
Uneventful day.
August 20th
Royal Artillery Orchestral Concert.
August 21st
Saw Follies Alger. Mosquito song.
August 22nd
Sunday. Prepare for camp.
August 23rd
Leave for camp staying at Karratta and going to Bougie to see "9 Men"
August 24th
Bathing etc. and meet Tom's Uncle.
August 25th
Saw Concert Party at theatre.
August 26th
Bathing and lose my teeth which quite amuses. *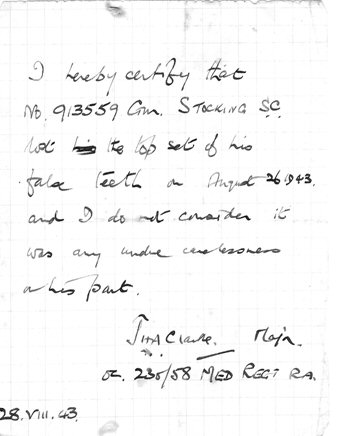 Note from Major Clarke
(Who became a great friend of my father's after the war)
August 27th
Return to camp.
August 28th
Saw "They all kissed the Bride". Saw dentist.
August 29th
Guard.
August 30th
Boys go to camp at Arty range.
August 31st
Went for Bite at Dentist.
Sept 1st
4 years today we were called up. Go to Setif and visit Madame Forrey.
Sept 2nd
Go to see George Fornby in "Much too Shy " Basil comes to see us.
Sept 3rd
Hear that we have invaded Italy.
Sept 4th
Swifty goes to camp. I go to Setif.
Sept 5th
Anniversary Service at Setif.
Sept 6th
NAAFI.
Sept 7th
I go to Dentist for fitting.
Sept 8th
Go to Djemila to see Roman ruins, very interesting, very like Pompeii. Rum issue as Italy falls.
Sept 9th
Go on M.B. to Setif see Bank and get P. cards of Djemila. See Veronica Lake in "Glass Key".
Sept 10th
Unusual Friday quite uneventful. Still no news from home.
Sept 11th
Scheme and visit to dentist for teeth, just fitting.
Sept 12th
Three letters but still anxious for the great news.
Sept 13th
Show with Peggy Desmond etc. very good.
Sept 14th
See Noel Cowards "In which we Serve"
Sept 15th
Sept 16th
Get teeth in and see "Squadron Leader X " at stadium
Sept 17th
Les tells me news from home. I still have had no mail. Dance in Salle de Fêtes.
Sept 18th
Visit St. Arnand, good time in cafe also amusing train incident.
Sept 19th
News of John's arrival reaches me 12 days late, just like Army mail. Barney etc. broadcasts the fact with various propaganda. Celebration.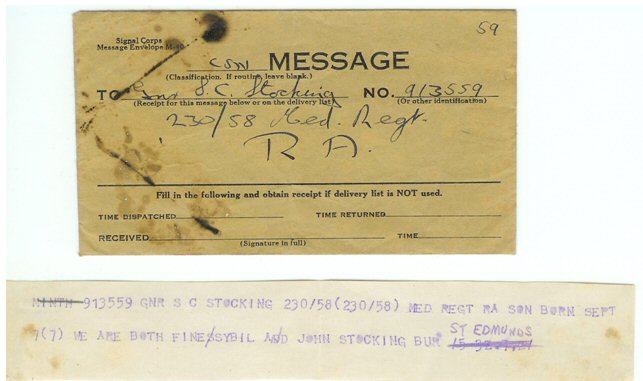 Sept 20th
Letters to write.
Sept 21st
Sept 22nd
Sept 23rd
Winkle scheme and see anti tank shoot.
Sept 24th
Morning in NAAFI then on to scheme, spending night out.
Sept 25th
Move to new position and are complimented on whole affair.
Sept 26th
Saw "Foreman went to France".
Sept 27th
Went to see "Music in my Heart" at theatre. All lights ablaze in Setif, reminds us of peacetime. Met Insp. Hurets son in cafe.
Sept 28th
Dig tents in.
Sept 29th
Went to St Arnuad and have amusing time with transport.
Sept 30th
Saw Betty Grable in "Footlight Serenade".
Oct 1st
Guard and Prepare for Audit.
Oct 2nd
Visit Setif with Petrol and Paddy and have Turkish Bath also visit Madame Forrey and Messr and Madame Garnupain and have interesting chat over Arabs etc. Leave by train for home and finish up with plenty of beer.
Oct 3rd
Church Service then have afternoon writing letters.
Oct 4th
Celebrations at night with plenty of beer. John one month old.
Oct 5th
Route march, things are beginning to move quickly.
Oct 6th
Route march and afternoon in bed.
Oct 7th
Oct 8th
Inoculation. Saw "Chinese Crackers" a real grand show at Salle de Fetes.
Oct 9th
Morning and afternoon in bed reading " Let the people Sing" J.B. Priestly. Raining during afternoon clearing up by morning.
Oct 10th
Sunday finds me writing letters and Barney and I go to Setif for the afternoon and evening.
Oct 11th
More rumours and John brings Russian maps and they fly around. Geoff comes up and we celebrate.
Oct 12th
Usual day of routine.
Oct 13th
Guard again and write a few letters. More preparations to start rumours.
Oct 14th
Went to see Sigs. Concert Party.
Oct 15th
Laundry allowance.
Oct 16th
Go to St. Arnand with Petrol and Lofty and Basil. We go to restaurant for eggs, mutton cutlets, salad etc. and interesting talk with Arabs. Invitation to French schoolteacher's house for dinner and also have a grand evening there.
Oct 17th
See "Yankee Doodle Dandy" and grand evening. Find oil in lorry not too good for my suite. Rang finding in morning with Charlie, Dicky, George etc.
Oct 18th
Cleaning up battledress and rest no P.T. Send parcel home, Oranges.
My mother remembered one of these parcels arriving in England with just 2 peach stones…the fruit had rotted away!
Oct 19th
Subscription to dependants, children.
Oct 20th
Visit St Arnand and have omelette, pigeons, etc. at Madame Brousse in the cafe then visit Messr and Madame Sarkis flat and have chat and Pernod etc.
Oct 21st
Concert "Society Les" at Setif "Salle de Fetes".
Oct 22nd
Scheme at Tinar and Chasseloup.
Oct 23rd
Petrol and I with Lofty and Basil visit St Arnand and have good meal and also some mandarins and really grand drink.
Oct 24th
Washday and send parcel home.
Oct 25th
Still no letters arrive from Home. Guard.
Oct 26th
Air mails arrive and we go to hot spring for bath returning to write more letters,
Oct 27th
Visit St Arnand and have dinner at Madame Sarkis with Free French Officer.
Oct 28th
Saw picture "Hit Parade" at Setif.
Oct 29th
Scheme at St Arnand - Setif area.
Oct 30th
Visit St Arnand, at Madame Sarkis for dinner again.
Oct 31st
Racing of donkeys, Camels etc. at Chasseloup. Trip into St Arnand and dinner at Madame Brousse's.
Nov 1st
Sgt. Ranson and Raymond Hatt visit us.
Nov 2nd
Nov 3rd
Short survey scheme in Tinar area with Charlie, Fred and Dicky. Return and visit St Arnand to Madame Bruce's cafe and Messr and Madame Sarkis spending a grand evening.
Nov 4th
Scheme at Djemila and have plenty of mountaineering during survey.
Nov 5th
Guy Fawkes, but quiet here.
Nov 6th
Visit St Arnand and have dinner etc. Arrange trip for Sunday.
Nov 7th
Visit Madame Pernod with Madames Brousse, Sarkis etc. have grand day in forest to return for meals at night in cafe. Return to find lorries loaded.
Nov 8th
Lorries etc. leave camp.
Nov 9th
More preps. and cleaning of area.
Nov 10th
Visit St. Arnand once more and have grand dinner at Madame Brousse's.
Nov 11th
Armistice day but quiet here. See "My Sister Eileen" at Setif.
Nov 12th
Packing and preparation for move. Go to St. Arnand and have farewell dinner with Madames Brousse and Sarkis and finish evening with three bottles of Champagne.
Nov 13th
Leave Chasseloup Loubat by train. Crowded truck, sleep almost impossible.
Nov 14th
Woken up at Phillipville and march to camp. Evening walk to St. Jeanne de Arc.
Nov 15th
Wet day and nothing much doing.
Nov 16th
Advance party goes and I stay on in Regt. Office. Afternoon in Philipville. Saw "Holiday Inn"
Nov 17th
Stayed in Office while Lionel went out. Read "England my England".
Nov 18th
Phillipville and saw "Silver Skates" a really good film and met Reg.
Nov 19th
Saw Reg again and Ron, Eric and I go to dinner in cafe also have champagne and Brandy.
Nov 20th
Bath at laundry and again visit our cafe for dinner etc. and walk home. A really enjoyable day (Thanks to Soap)
Nov 21st
Sunday and a week since we arrived. Day in Office.
Nov 22nd
Day in NAAFI and pay.
Nov 23rd
Saw "Me and My Gal" with Judy Garland etc. Good film.
Nov 24th
Amusing incident on overhead railway.
Nov 25th
Day in once more.
Nov 26th
Saw "Shadow of Doubt" with Terence Wright. Grand film and acting.
Nov 27th
More rain. Still no news or letters.
Nov 29th
Day in Phillipville with Boys saw " Ziegfield Girl"
Nov 30th
Morning in town with John having a few Cognacs. Afternoon on duty.
Dec 1st
Day in Camp.
Dec 2nd
Saw Canadian Concert Party.
Dec 3rd
Visit town with C.R.B. and Lofty.
Dec 4th
E.N.S.A. show, punch etc in town and real grand evening.
Dec 5th
March to Docks and Board "Ville de Oran" sleep on deck for night.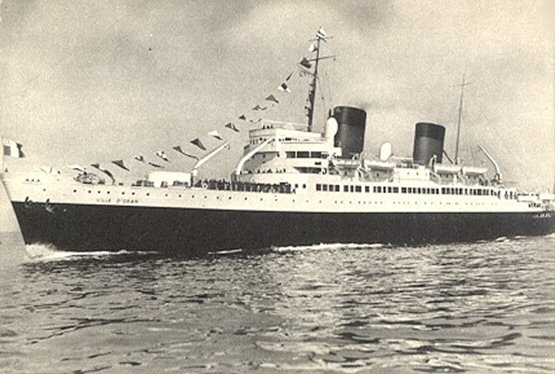 Ville de Oran
Dec. 6th
Leave port at 8 am and have grand journey along coastline sunbathing etc.
Dec 7th
Arrive at Syracuse and stay the day. Leave at night.
Dec 8th
Arrive at Toranto and march to billets in brick factory. Trip into town for Photos. See Grand Variety Concert.
Dec 9th
NAAFI. Help Swifty. Write letters as I have a fan mail arrive.
Dec 10th
Route march and guard. Sample wine and interesting chat with Italian children.
Dec 11th
Prepare for move. Get Photos and saw Bette Davis in "In This Our Life".
Dec 12th
Leave on journey from Toranto stopping at Adelfia. Walk into town after tea and have liqueurs, nut ices, vermouth and orange squash.
Dec 13th
Pass several very interesting towns and eventually arrive at a very battered town of Foggia where we stay for the night.
Dec 14th
Move to Istonia (Vasto) and see ENSA show "Passing By"
Dec 15th
Today we cross the famous Sangoo bridge and take up positions outside St. Vito. C.P. near house. G.F. at night.
Dec 16th & 17th
Prepare for tasks and settling in. Dig bivouacs in orchard.
Dec 18th & 19th
Mail arrives. (Capt. Price casualty).
Dec 20th
Capt. Walton takes over O.P.
Dec 21st
Effective Ack Ack tasks.
Dec 22nd
We now visit Papa and Mama, our friends in farmhouse, each evening.
Dec 23rd
Change over at O.P.
Dec 24th
Xmas preparations.
Dec 25th
Xmas in action. Grand food and Communion. Whiskey and tea in bed. Sing Song.
Dec 26th
Parcels and mail to answer otherwise quiet.
Dec 27th
Weather improves and prepare for another barrage etc.
Dec 28th
Attack and news of Major and Busty receiving injuries. Capt. Walton takes over.
Dec 29th
Capt. Walton promoted.
Dec 30th
Capt. Gagen new C.P.O.
Dec 31st
Celebration in C.P. at night, Gin and Lime and beer. Rain gives all the lads a damp time. Bivouacs all washed out. I sleep in C.P.
1944
Jan 1st
Drying of fellow's blankets and bedding. Move into a room and have good clear out. See some spaghetti being made and then sample the same later.
Jan 2nd
Sunday. A grand day and everything seems to dry off.
Jan 3rd
Photos arrive and we fumigate the offices out in the C.P. with charcoal fire.
Jan 4th
More presents from Jerry at night.
Jan 5th
News still good. Very cold. We expect snow.
Jan 6th
Still cold and not much news.
Jan 7th
Visit C/p and Pete and Jim.
Jan 8th
Rearrange billet to make more room.
Jan 9th
Visit Cinema at St Vito Maria and see Robert Donat and Valerie Hobson in spy film.
Jan 10th
Church service and sort billet out for more sleeping space.
Jan 11th
Help Italians move barrels in C.P. for fire and rig up grand log basket. Also fill his hidden treasure hole.
Jan 12th
Out to recce alternative positions for troops.
Jan 13th
Birthday and celebrate at night with wine, pancakes etc.
Jan 14th
Survey in alternative position.
Jan 15th
Paddy gets hit at O.P.
Jan 16th
Service with new Padre at D troop position.
Jan 17th
Help the old man fill up his treasure hold in floor. Big attack put in.
Jan 18th
Saw more trees for our log fire and meet Canadians over a drink at night.
Apparently attack was fruitless.
Jan 19th
Further recce of new positions.
Jan 20th
Saw Tommy Trinder in Variety Show and interview by correspondent. *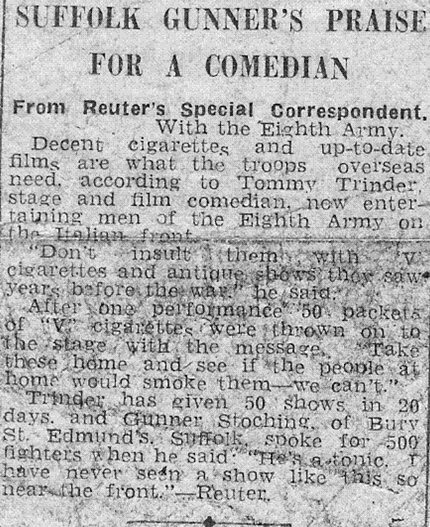 Cutting from 'Bury Free Press' of 'Interview of Gunner 'Stoching' by Correspondent'
Jan 21st
Mother's birthday.
Jan 22nd
Hear of raid S. of Rome.
Jan 23rd
Saw Kay Francis in "Always in My Heart" and walk up steps to St Vito. Hear Jerusalem sung by Lily Dip.
Jan 24th
Take over Bty. Clerk from Tich.
Jan 25th
Tollo bombed. Quite effectively.
Jan 26th
Rain today and first returns going. Saw " The day will Dawn" at Vito.
Jan 27th
Had pancakes in the C. Post again. Canadians move in.
Jan 28th
Bill makes some strange concoctions for supper.
Jan 29th
Capt. Neale arrives to join us. Bath in afternoon.
Jan 30th
Sunday.
Jan 31st
Saw Irish Guards Band at Lanciaro, Good programme.
Feb 1st
Meet our new friends and have grand birthday party.
Feb 2nd
Feb 3rd
Feb 4th
Jack prepares for new position.
Feb 5th
Advance party goes and we pack up.
Feb 6th
Left St Vito for 5th Army front, passing through Vasto etc.
Feb 7th
Today it is much colder and as we get up in the Apennines we are snowbound and forced to spend the night in an Italian shed.
Feb 8th
Move on to Ariana and stop near to Vesuvius but unable to see it owing to cloud.
Feb 9th
Clear up C.P. which is in what we term the Black Hole of Calcutta. Find billets.
Feb 10th
Day clearing up and spend some time with Leon (our new friend here) Rain and rum issue.
Feb 11th
More rain. Rig up stove in the C.P.
Feb 12th
Morning writing letters.
Feb 13th
Sunday morning service. G sub Gun premature.
Feb 14th
We look over gun and dig up pieces of barrel.
Feb 15th
See Leslie Henson Hermorre Baddely, Kenway and Young etc. at Capria, very good show.
Feb 16th
New stove, not much improvement.
Feb 17th
More mail arrives.
Feb 18th
Russians cut off Jerrys.
Feb 19th
Saw Geoff at R.H.Q. (Guard Begins!)
Feb 20th
Communion in ruined house at Laura followed by church service otherwise ordinary day. Macaroni and pork at house.
Feb 21st
The day we should have left for camp at Amalfi.
Feb 22nd
Shrove Tuesday and special macaroni.
Feb 23rd
More rain again.
Feb 24th
Prepare for rest camp.
Feb 25th
Left for Amalfi with Frank etc. passing through Sessa, Cafnia, Naples. seeing Vesuvius and Pompeii also Salerno. Lovely scenery and Lemon terraces down to the sea. Camp in delightful spot.
Feb 26th
Walk around town and buy lemons etc. Afternoon trip to Revello seeing Convent and Monastery also the Nuns sing "Avia Maria". Villa Ceinborne with lovely gardens and view of Capri etc. Have to walk back.
Feb 27th
Trip to caves and see also wonderful modern villa and play the piano*. Afternoon walk to Meora and are caught in thunderstorm. Concert at night with popular songs.
* Dad was quite an accomplished pianist
Feb 28th
Walk with Frank and afternoon spent exploring the narrow lanes of Atrani. Evening adventures ending up with eggs and chips and pictures.
Feb 29th
We have last look round and more eggs and chips with vermouth. Then we return home same route and settle in for night.
March 1st
Dig myself really fine house in the olive grove and hope for some nice weather to come along.
March 2nd
Visit Louisais the washerams for some coffee and have party on Jack's birthday.
March 3rd
More improvements to house.
March 4th
March 5th
Take over Clerk in Bty. office while Tich is at Camp.
March 6th
Visit cinema at Baths and see " Five Graves to Cairo"
March 7th. 8th, 9th, 10th.
March 11th
Rumour of moves.
March 12th
Prepare for move
March 13th
Leave Laura for new abode. Stop night at ..........?.name left blank in diary
March 14th
Rain and move on to old camping ground after passing over Apennines.
March 15th
Stay night in Termoli.
March 16th
More rain for move and finally arrive at … ?.name left blank in diary... near Castle. C.P. in house, our billet straw house.
March 17th
St. Patrick's Day and hear celebrations on wireless as I'm on night duty.
March 18th
Up early and spend day clearing up and fire first registration, which are effective on houses.
March 19th
Sunday. Rather uneventful.
March 20th
To Lanciano for bath and get nuts etc. Pancakes at night.
March 21st
More rain and we are up to our necks in mud again.
March 22nd
We go to see Sandy Powell in "Corn in Egypt" Marvellous singer who sings "One Fine Day"
March 23rd
Changeover of Acks.
March 24th
March 25th
March 26th
Change of billets to new house.
March 27th
Make ourselves comfortable in new billet.
March 28th
March 29th
Lanciano to see Fred Astare and Rita Hayworth in " You were never Lovelier".
March 30th
Wash battledress and stand to.
March 31st
Major Clarke arrives.
April 1st
Freddie comes up to C.P.
April 2nd
Communion at D Troop (Palm Sunday).
April 3rd
See show at Lanciano.
April 4th
Have Gin etc. in C.P. at night.
April 5th
Take over for Swifty at W/L's
April 6th
Went to Castlebordino for NAAFI
April 7th
Good Friday
April 8th
Swifty leaves.
April 9th
Easter Sunday Communion in barn. Meet Italian Police.
April 10th
Visit Pagliatti and see grand view of Sangro valley.
April 11th
See show at Lanciano "Palace of Varieties" real fine show.
April 12th
Snaps arrive of John. *
April 13th
NAAFI and preparations for C.R.A.'s insp.
April 14th
Brig. Mchoncie inspects and gives us good chat.
April 15th
Swifty returns and Ashley leaves us.
April 16th
Last day at W/Ls.
April 17th
Return to C.P. Visit R.H.Q. canteen with John.
April 18th
Pin ups in vogue again.
April 19th
Try out of gun as Howitzer.
April 20th
Bombing of Lanciano etc.
April 21st
Letters arrive.
April 22nd
Day off to catch up letters etc.
April 23rd
Near hits to C.P.
April 24th
Jack and I go to Lanciano and St Vito and have good morning.
April 25th
Barney goes on leave at Bari.
April 26th
April 27th
Go to see show "Fancy Meeting You" Marvellous Blonde.
April 28th
Bath at R.H.Q.
April 29th
Duty and macaroni dinner at house.
April 30th
Sunday. Issue of K.D.
May 1st
May 2nd
May 3rd
May 4th
Now start wearing our KD.
May 5th
May 6th
Go for walk and get flowers for graves.
May 7th
We have service and communion in gun pit.
May 8th
May 9th
May 10th
Charlie and George go to Bari on leave.
May 11th
News of attacks going in at Cassino.
May 12th
Glyictures taken but stiff resistance.
May 13th
Good going on all fronts.
May 14th
Jerry counter attacks. Air OP shoots at 7 o'clock.
May 15th
More air OP work.
No entries till 22nd
May 22nd
Leave by road for Vasto where we board train to San Spirito and to rest camp at Bari. See show in evening.
May 23rd
Visit Bari. and Garrison theatre fun at barbers. Show at night. Photos taken*
May 24th
Another grand day visiting Corner House, Yatch Club etc.
May 25th
Visit "Ting a Ling" cafe and have a real good laugh.
May 26th
See Italian variety show.
May 27th
See show.
May 28th
Last day and visit "Ting a Ling" with Americans another good laugh. See or rather the start of "Services Cocktail" not so hot but the Convalescent Depot at night gives us a real hearty one and which incidentally was our last for we left at nine for home or at least the Regt.
May 29th
After sleeping in the corridor arrive at Vasto for breakfast and from there go back by road and have a brush up before duty.
May 30th
Day off.
May 31st
Busty off to Vasto.
June 1st
Italians move up on front.
June 2nd
June 3rd
Night duty and rain.
June 4th
Day off. Few miles off Rome and fighting on outskirts.
June 5th
Rome falls and we fire Salvo on Crsogra in celebration of same.
June 6th
Invasion begins in France.
June 7th
Prepare for move.
June 8th
Move to recce position near Dundee X roads.
June 9th
Find German in rubble, Dtp see to him. Cherries in Garden.
June 10th
Move up through Tollo but stop at Rifa.
June 11th
Move early morning to Pescara valley passing through Rifa and Cheato. Germans retreating so fast we are out of range. C.P. in house near church. Bridges blown hamper advance.
June 12th
Prepare to pull out at night for rest in Campalbassa area. Stay night at Dundee X roads.
June 13th
Clearing up of stores etc. and reloading of trucks. Battery at Citona.
June 14th
Move off for rest area via Citona, St Vito, Ensaria, lovely scenery through mountains and find ourselves in an oak wood.
June 15th
Erect tents and make ourselves comfortable. Walk into village at night.
June 16th
Start shaping place and usual stones.
June 17th
Today I go to Compablessa and see Fred Merch and Veronica Lake in "I Married a Witch". Storm at night.
June 18th Wet awakening. Service and Communion. The storm still continues. Prepare for inspection. Mail arrives, very welcome.
June 19th
Erect Store tent and Col. visits.
June 20th
June 21st
See film with Busty "Phantom of the Opera".
June 22nd
June 23rd
Go to Campobasson and met young Italian.
June 24th
Storm again.
June 25th
Regt. service at R.H.Q.
June 26th
Take over at Bty. office while Tich is on leave.
June 27th - 30th ---no entries
July 1st
July 2nd
Finish Bty. office and take over canteen.
July 3rd - 8th --- no entries.
July 9th
Visit Campobasson for wines etc.
July 10th
Go on leave to Rome via Biano, Isernia, Cassino, seeing the Monastery and ruins and at night go to Rome and see a few of the sights.
July 11th
Visit St Peters and see the Pope in the Vatican after which we see Dianna Durban in " Brothers Sister"
July 12th
Visit Coliseum etc. and at night see " Blithe Spirit" Noel Coward with Emlyn Williams etc.
July 13th
Return to camp on same route as before.
July 14th
July 15th
July 16th
Visit Vinchitura for wine.
July 17th
Leave on recce and take Rome route 6 and then stay night at Griena.
July 18th
Move again to rest near Possilonsi
July 19th
Have vino at house nearly...
July 20th
July 21st
July 22nd
Move to positions near Caldura.
July 23rd - Aug 3rd --- no entries
Aug 4th
C.P. in Chateau. Marvellous place.
Aug 5th
Aug 6th
Aug 7th
Visit O.P. in Monastery. Shelling incident Jap.
Aug 8th - Aug 11th --- no entries
Aug 12th
See mobile film in Courtyard.
Aug 13th
Heavy conc. at night near C.P. we retaliate.
Aug 14th
Innocs and Bath in washing pool.
Aug 15th
Today being not only our wedding anniversary but also feast of St. Maria finds us packing up for a move. We stop the night in a hide Near W.L.'s.
Aug 16th
We trek off South through Sienna and Arezzo stopping the night near village overlooking same.
Aug 17th
Move off early and pass through Assisi landing up near Foligna where we stay for night. See Bill Bradley.
Aug 18th
Move off at 2 am and end up near Costarriaro where we have a grand storm which churns the earth up into a sea of mud and practically washes us out. It lasts all day and we feel pretty fed up.
Aug 19th
Drying up in morning and things settle a bit. Feeling rotten go to bed.
Aug 20th
M.O. thinks its Malaria. day in bed.
Aug 21st
Feeling better but still shaky.
Aug 22nd
C.C.R.A. visits and recce party leaves.
Aug 23rd
G.P.O.'s recce.
Aug 24th
Move off at 1.30 to C.P. in house. Bty. office in shop.
Aug 25th
Write a few letters and receive a little mail.
Aug 26th
Move over diversions on mountain tracks and C.P. in farm full of pigeons.
Aug 27th
Recce onward to C.P. in Signal House at crossing. Chips and pigeons at night also bathe in river and waterfall.
Aug 28th
New C.P. in farm. Bty. office in tent.
Aug 29th
Move in morning to Milianico C.P. in house. Message arrives Swifty in hospital I go to W/Ls Traffic jam. sleep out all night.
Aug 30th
Meet up with W/Ls and are moving to new area.
Aug 31st
Sept 1st
Sept 2nd
Sept 3rd
Sept 4th
- No further entries. Dairy ends here.
Appendix
1. Book 1 Small hard back 'memo book' with instructions for Lewis gun, 6 pounder Anti tank gun and Bren gun, at back. See appendix.
The following is a transcript of the notes on the back pages of the first hard back diary. All spellings and punctuation (or lack of it!) are as hand written by my father. (As is the whole of the above diary.)
Lewis Gun Light Automatic
There are 24 body compotent parts. No. of parts on Gun are 58 of which only 34 are dismantled the weight of the gun is 26 lb it fires 5-600 rounds per minute if in perfect working order it is operated by gas & spring being air cooled the weight on spring inside the pinion being from 13 to 15 lbs. When out of action never more than 4 – 6 lbs
Immediate Action Stoppages
Position of Cocking Handle ( Pos. 1)
(1) Empty Magazine (REMEDY) Change
(2) Damaged Change
(3) Dud Round Change
2nd Position
Hard Extraction due to gas not being strong enough.
3rd Position
(1) Double Feed caused by right stop pan allowing the magazine to rotate too far.
Remedy. Feel for cocking handle & counter rotate & carry on.
1st Phrase Stoppages.
Position 1 Broken Striker or Broken Feed Pan
Remedy Change
Position 2. Friction – Dirt in working parts
Remedy Clean off.
Position 3 Weak or broken right stop pan
Remedy Replace
2nd Phrase Stoppages
The Cocking handle stops in 3rd position only. Broken return spring or pinion paw spring a weak or broken cartridge guard spring broken ejector or broken extractor.
Butt
Body Cover,
Cartridge Guard Spring
Left Stop Pull
Right " "
Pull Spring
Tangent Back Sight
Feed Arm
" " Pull & Spring
Pistol Grip
Plunger – Rear Seer
Pinion Group consisting of T shaped screw spring and case spring.
Piston Rod & Striker cup Shaped N**d
Butt actuating stud & 2 extractors
Ejector & Ejector Spring Cover
Body Locking Pin
2 1/2 turns left – Body Removed
Front Radiator Casing & Forward Radiator Casing, Gas Regulator.
Gas Regulating Key, Fore Sight,
Barrel Mouth Piece with left handed thread. Gas cylinder & Gas Chamber Barrel Hangers.
"6 POUNDER ANTI TANK GUN"
Screw Stop Wedge
Tommy Spanner
Extractor
Lever Roller Cam
Screwed Axis Pin
Crank Handle
Cam Roller
Main Spring
2 Lugs
Hammer
Stirrup Spring
Seer & Seer Spring
BREN GUN
BREACH BLOCK
Firing pin, Extractor, feed Piece (Groove in between is the "Ejector Way")
PISTON
Head of piston, Piston rings, Ejector Slot, Piston Post, Recess for "Return Spring Rod", Guide Rib, Piston Post Spring.
BARREL
Flash Eliminator, Foresight, Gas Block, Gas Vent, inside Carrying Handle Barrel Locking Threads Clearance for feed piece. Clearance for Extractor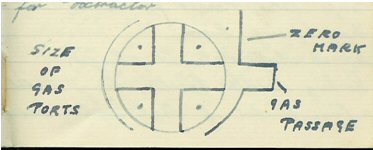 BUTT GROUP
(1) Mounting Pin, Guide Ribs
(2) Return Spring Rod. Seer. Piston Buffer & Spring. Slot for Body Locking Pin, Butt Strap, Butt plate Catch.
(1a) Mounting Pin Handle, Ejection opening cover (UNDER) Safety Catch, Pistol Grip.
(2a) Return Spring, Buffer Spring, Butt Swivel, Mounting Pin Handle, Mounting Pin, Butt Handle, Butt Plate.
BODY GROUP
Gas Cylinder, Locking Bar, Fouling Holes, Gas Shield, Gas Cylinder, Gas Escape holes, Recess for Barrel Nut, Mag. opening Cover, Barrel Nut Retainer plunger. Cocking handle, Ejector, Mag catch & Pin. Window of back sight drum, Aperture backsight. Body Locking Pin.
BI POD
Sleeve Bracket, Spring, Bipod Swivel, Bipod catch, Upper Leg, Lower Leg, Spring Catch, Bipod Shoe.
BARREL NUT
Barrel locking threads, Safety Lug, Barrel Nut Catch
TRIGGER GROUP
Trigger Pin, Change Lever, Seer Pin, Seer Spring, Tripping Lever,
Cause Stoppages
Empty Magazine.
Badly filled Mags (RIMS)
Misfire (No Gas)
Faulty Ejection (Empty case in Body)
Hard Extraction (GAS)
Insufficient Gas.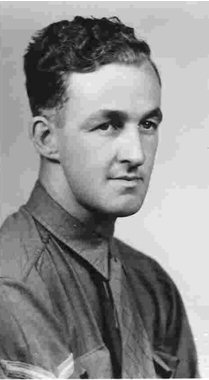 Now Lbdr. Stocking !
Signed on reverse "With Love Cliff AUSTRIA July 1945"
Taken on way back to UK